Copyright Springfields Horticultural Society Ltd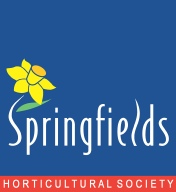 Welcome to
Springfields Horticultural Society
and
Festival Gardens
The Society was formed in 1966 and registered as a Charity, registration number 253736.
The Society is dedicated to the promotion, study and practice of horticulture, in particular the cultivation and development of flowers grown from bulbs and corms.
Shows and Exhibitions are held in pursuant of these objectives.
Festival Gardens
The beautiful Springfields Festival Gardens in Spalding include themed, educational and inspirational gardens, water features and woodland walks. The Sensory Garden includes additional features for those visitors with special needs. Relax and enjoy the peaceful surroundings with family and friends and also visit
some of the other attractions at Springfields.
The Gardens are open every day except Christmas Day. We are pleased to welcome group tours, clubs and societies and can provide pre-booked private dining (breakfast,luncheon or afternoon tea) including an introductory
welcome from our Head Gardener.
The gardens are free to enter except for a few fund raising days
Membership
At present membership of the Society costs £15 per annum from the 1st January. This gives free admission to many of our shows along with Members Days & Events.
Applications are invited from interested parties or groups. Membership currently stands at 200. See Contacts for details of how to join.
East Midlands in Bloom
The gardens together with the Outlet Shopping Centre were awarded 'Best Retail/Commercial Premises Special Award' for 2014, this follows on from 2012 and 2013 where they won the award for the first time.
The History
The beauty of the tulip fields in Lincolnshire's South Holland region had to be seen to be believed. Colour stretched as far as the eye could see and visitors from near and far came to marvel at the spectacle. But the tulip growing season was a short one – how could the joy of these blooms be enjoyed for longer? What follows is the history of Springfields and the organisations behind this glorious show garden, which made the glimmer of hope that the blooms of South Holland could be enjoyed for longer, and by many more, a reality.
More
Lincolnshire's Poet Laureate, Joel Stickley, has written a poem about Daffodils which he read at the Members AGM in 2011.
You can read it or hear it by clicking on the appropriate link below.
Click on this icon for live weather